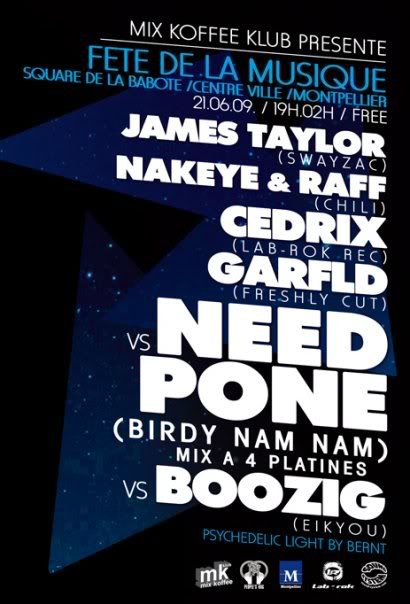 (English below)
La Fiesta de la Música es una celebración que se realiza el 21 de Junio, el primer día del verano del hemisferio norte. Su objetivo es promocionar la música de dos maneras. La primera que los músicos aficionados voluntariamente salgan a tocar a la calle. La segunda es con la organización de conciertos gratuitos, en los que el público tenga la oportunidad de presenciar sus artistas preferidos sin importar estilo ni origen.
Hoy 21 de Junio en
Montpellier
; dj set en
Square de la Babote
y luego after party en
Mix Koffie
;
Birdy Nam Nam, James Taylor, Cedric Benoit, Boozig, Nakeye & Raff.
The Fête de la Musique, also known as World Music Day, is a music festival taking place on June 21, which is the northern solstice. Many free concerts are organized, making all genres of music accessible to the public and all performers donate their time for free.
The Thriller beat - Piratesonic